Estimates: Pull From Schedule
This guide covers the functionality of the Pull From Schedule that is available by clicking on the labor amount>click ...more at top of screen>Pull From Schedule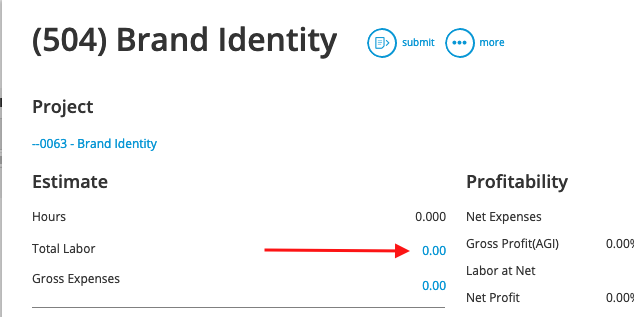 Understanding the use of this function can help you to greatly reduce the amount of time you spend estimating labor.
If you follow the process of relying on the hours allocated in your schedule to then determine the cost of the project, using the Pull From Schedule button will simply copy over the hours and services currently allocated into a new estimate.
You can also do this for Change Order Estimates to simply capture the changes.
---
What it does
When you click Pull From Schedule, these things occur very quickly:
Your schedule is scanned for Services with Hours Allocated.
Those Services and Hours Allocated are then added to your Estimate.
The Billing Rate for each service is then determined by your Get Rate From setting in projects setup.
---
What you can do from here
You can make manual changes to the hours, services, or even rates. Know that any changes you make at this point will differ from how the schedule and project are setup.
Also, if you make changes, then billing Time and Materials will have the Rates established in project setup, and not the rates in the estimate. Only billing fixed fee from the estimate will use what was in the estimate alone.
You can make adjustments and push back into the schedule. For more on this please review the Auto Assign guide.
---
Resources