Time tracking: Services [in-depth guide]
---
Guide contents: Navigation | Services list | Editing services | Edit columns | Replace service | Adding new service | Resources
---
Services allow you to track and categorize employee labor for use in task assignments, time entries, tracking/reporting, and client invoices.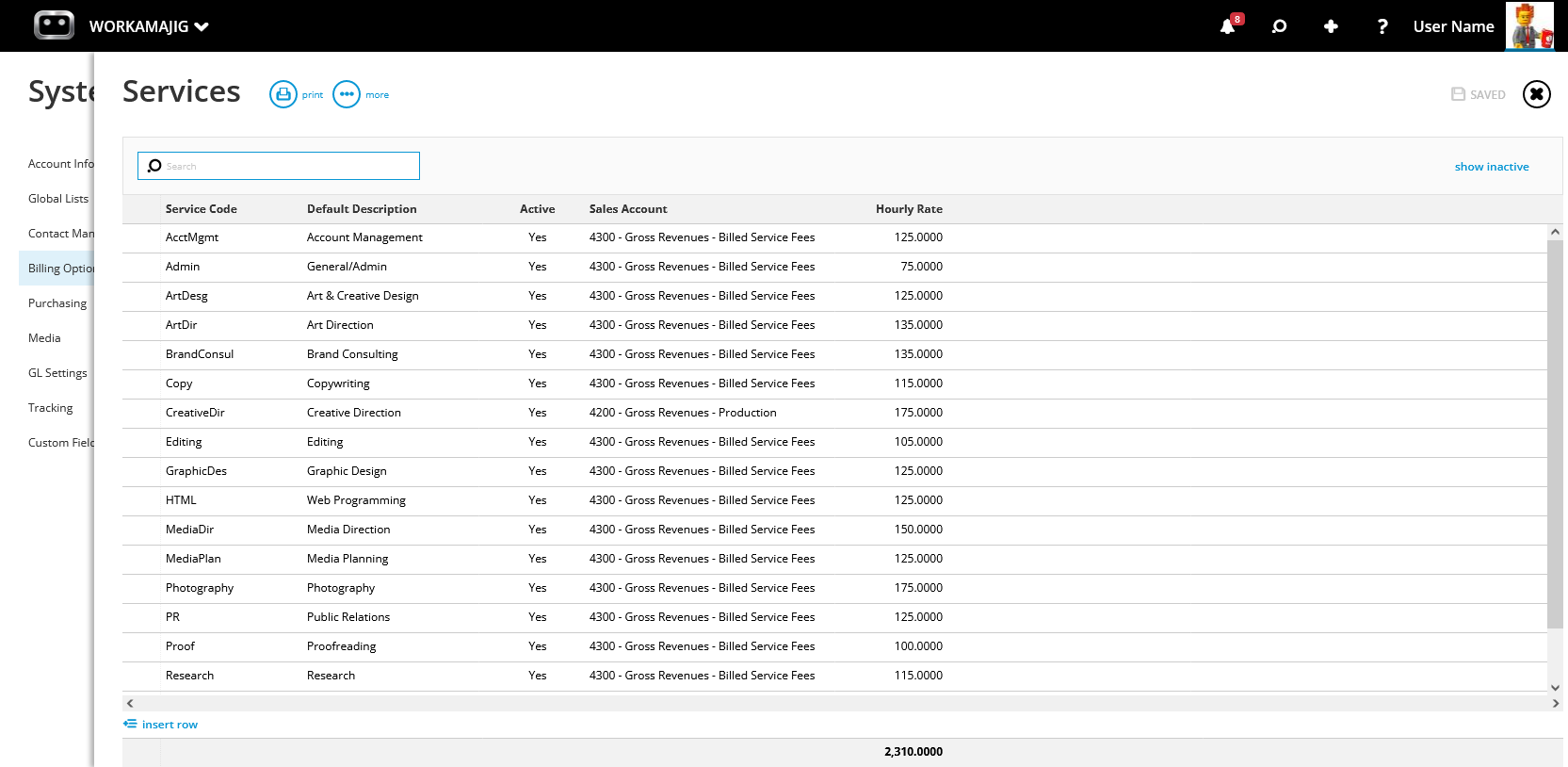 NOTES:
New installs of Workamajig are preloaded with a list of common services out the box.
It is recommended that you log out/into Workamajig after setting up new services.
---
Navigation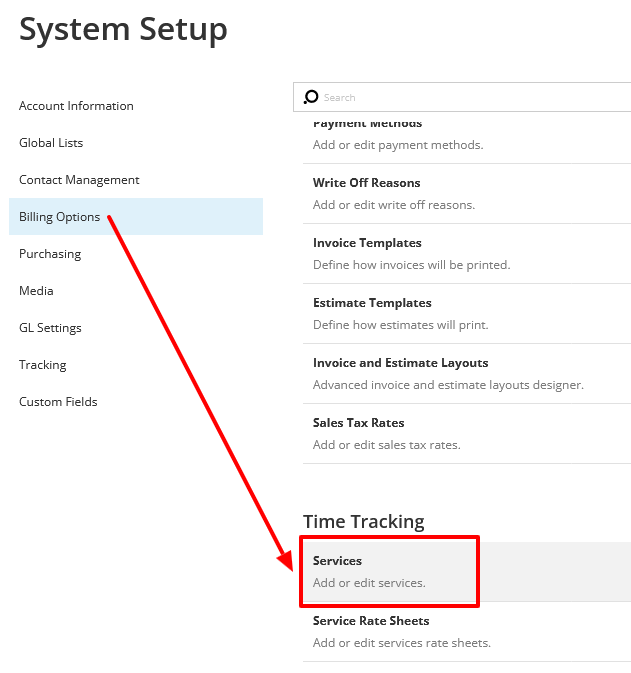 ---
Services list
The default list is made of the industry-standard services. And focuses on the name of the service.
The service code needs to be unique in the system and is an identifier for the system to use. The service description is what your users see and reference when entering time, along with what can be readily visible in reports and on client invoices.
---
Editing services
When you click on a row, you can edit the visible fields. However, you can then also click the 4 arrows icon to expand the row.

With the row expanded, you can edit more detail than are shown by default in the grid.

---
Edit columns
You can edit the default list so more fields are visible. This is done by clicking on More and then choosing System settings.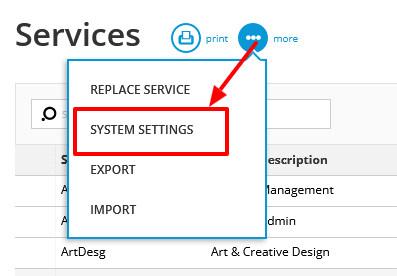 Then click on Edit columns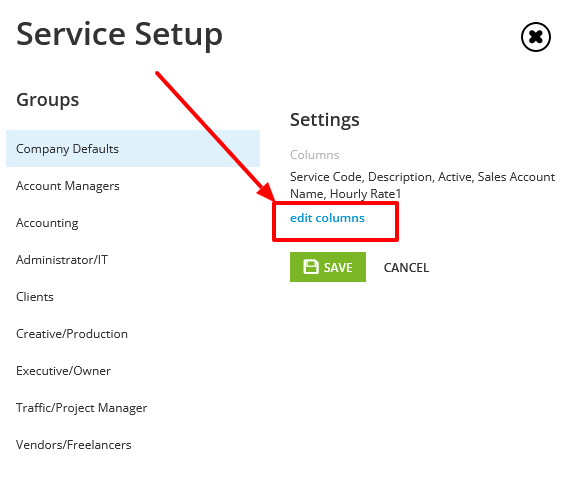 At this point, you can choose which columns of data you want to show and the order to display them.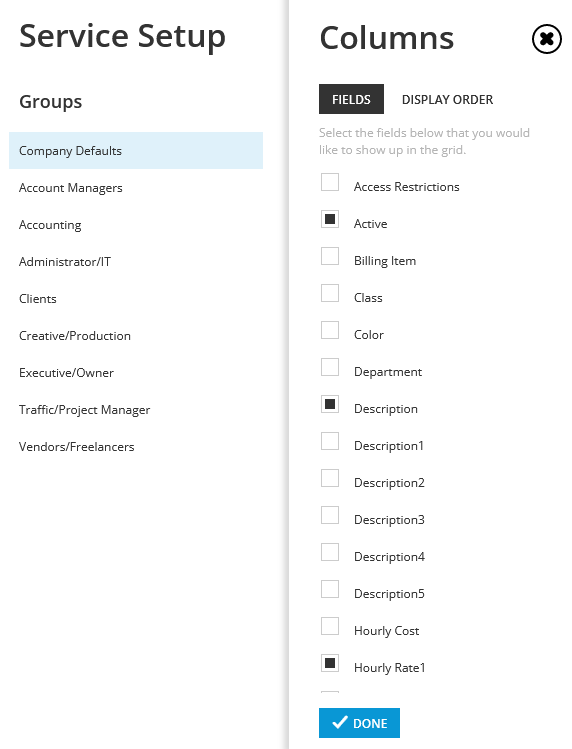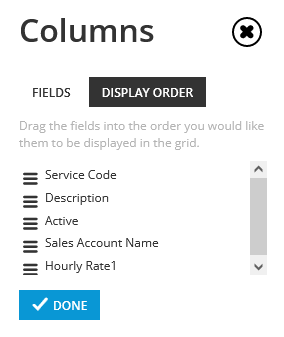 Here is an example with the hourly rate and sales account now in the default list.

---
Replace service
This option will replace any open task assignments with this service or employee records who have this selected in their list of services and replace it with the service you choose. An example that would benefit this is; if you make a service inactive and because it was assigned on project templates and active projects, we want to replace it throughout with active service. NOTE: There is no undo option. And this will replace all active assignments to this service, so be very careful when using it.
From the More option, choose Replace service.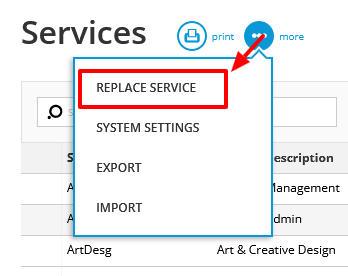 Choose the service to be replaced and the new service that will take over for it.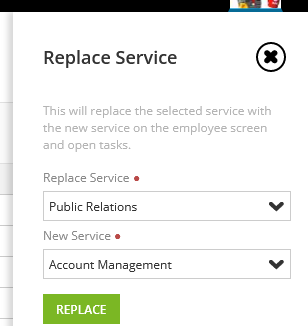 ---
Adding a new service down the road
Be aware when adding a new service to the system after you are already set up and using the system. You will want to check a few things to make sure the rates you want are being used.
The most common issue is that the new service will appear on all service rate sheets. But it will start with a rate of zero, even if you add a rate to the service itself in the Services screen.
Also, review your project's get rate from settings, so you can track down where this service may need to be updated.
If the time has already been entered before fully updating the service setup, then you will need to press Recalculate labor rates on all projects where there is an issue.
The new Service may not appear on existing estimates as well. You might need to add the service manually to the estimate from the Estimates > More option.
---
Resources
Sales tax rates [in-depth guide]