Project files [in-depth guide]
Workamajig's file system for projects allows you to store files of any format, and share them with others on your team. Each project has its own files area, and you must have access to the project in order to view any of the files.
---
Guide contents: Security Settings | Upload files | Download files | Move/copy files | Campaign files | Delete files | Send for review | File management | Resources
---
Security Settings
Security Rights
From Security Settings, there are two security rights associated with being able to access and search the project files area.
Access the File Folders
Search in projects you are not assigned to
File System Rights
In Security Settings, click on the desired Security Group from the left. Then click the pencil/edit icon next to File System Rights.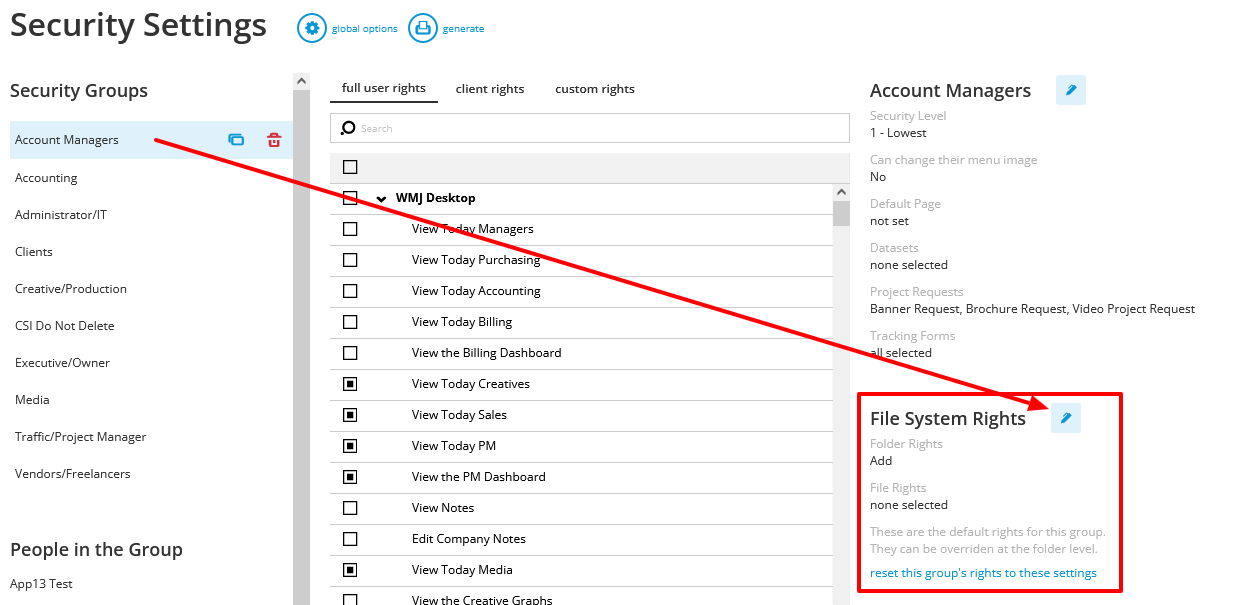 Here you can choose the specific file rights for that group. For example, if you want you users to be able to add project files, but not delete them. Nor be able to modify the file security of individual projects, you would set them like this.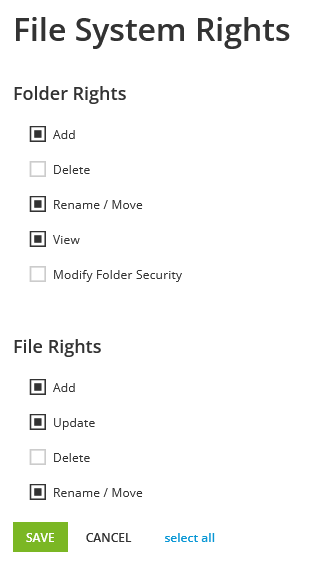 NOTE: By Default for new installations, no File Rights are selected. Any user that is an Administrator will have full access to files, no matter their security group rights.
Override Security within a Template or Project
From a Template or Project, you can customize these rights. From Files section, you can click on More > Change Security to customize the file access.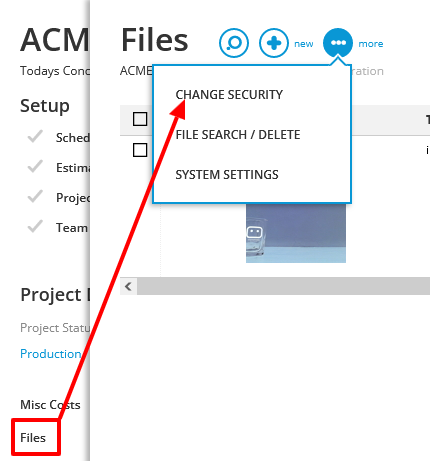 If you want to reset the file rights back to default, click on More > Reset to Defaults.
NOTE: If you change the Security at a Template or Project level, then anytime you copy from that Template or project, the Security that was set will copy forward.
---
Upload files
You can add new files using the UI tools or drag and drop.
UI tools
Start by navigating to the project and it's files area.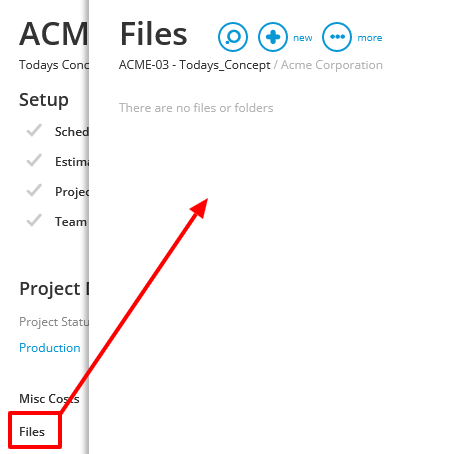 Then click on the New button at the top. Here you can choose to Upload Files or New Folder.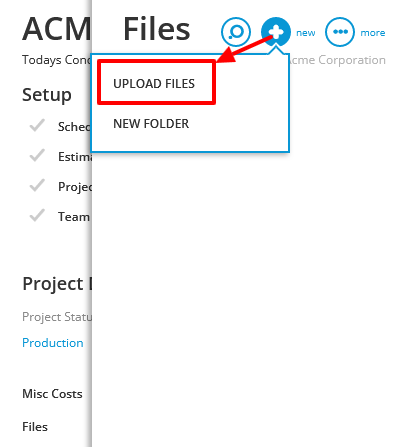 When you choose Upload Files, your computer's file system will open for you to locate your file(s).
Once your files have been selected, you will be shown a confirmation screen with the filename(s) about to be uploaded.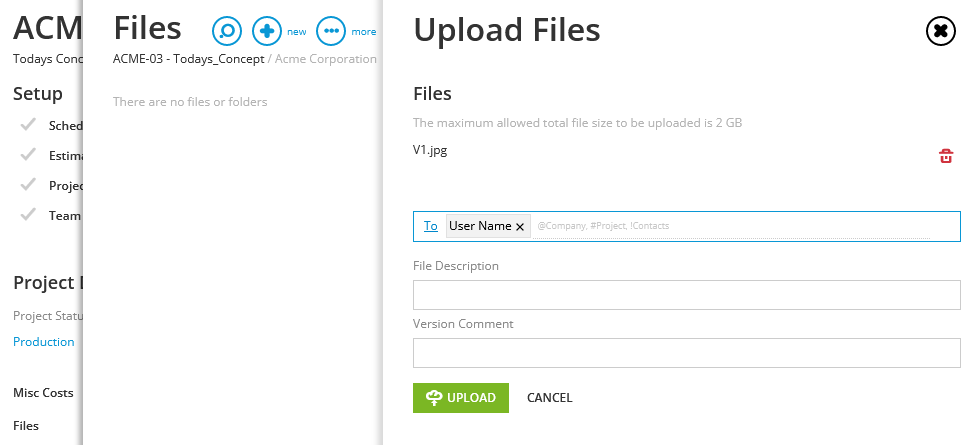 You can also add a description, comment and email another user of this upload.
NOTE: In the Projects Team Subscriptions you can check users who will be added to the File Notify list by default.
With the file(s) now uploaded, you may see a preview of the file, depending on the file type and file server.
Drag and drop files
With the Files area open, you can drag and drop the file(s) from your computer's file system onto the open browser.
---
File Details
From the files area, click on the file name to open a preview of the file and have access to the download link.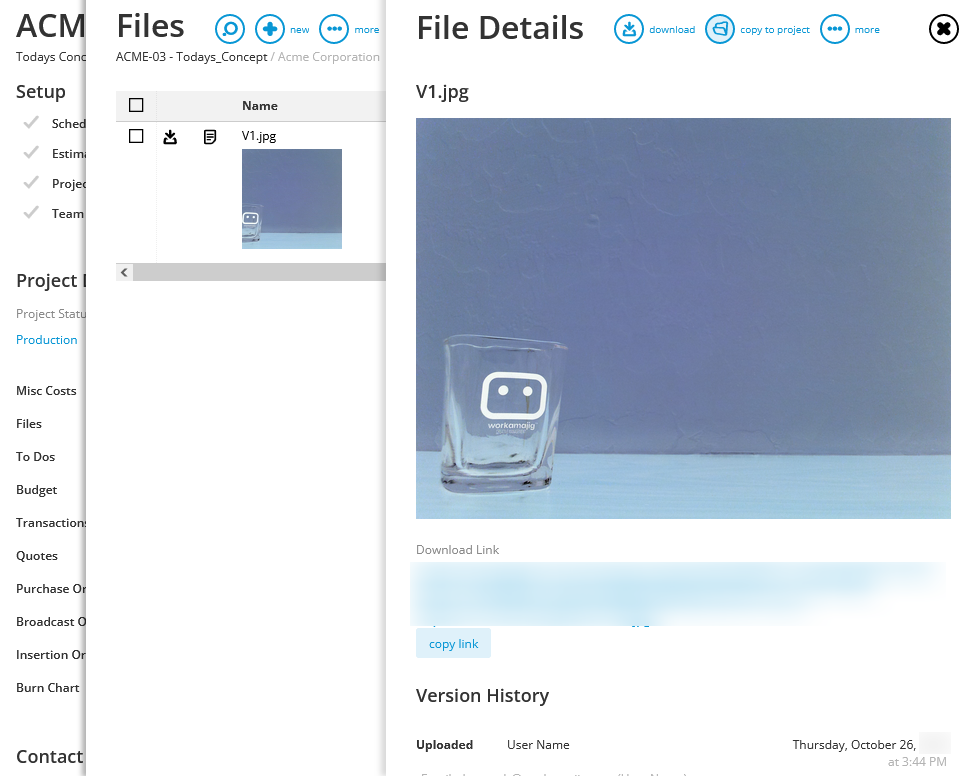 You can also click elsewhere on the row of the file and get a detailed screen about the file, from which you can download it as well.
---
Checkbox Options
You can only move or copy files to other folders within the same project files area.
Click the checkbox next to the file(s) you want to move or copy and then choose the option that appears above.
Another screen appears with the available Project folders to move/copy to.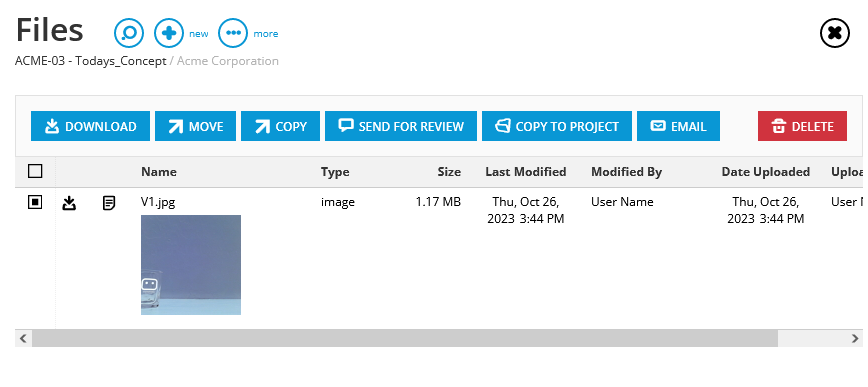 ---
Campaign Files
If the project happens to be part of a campaign, then you can access the campaigns files from the More button and choose Campaign Files.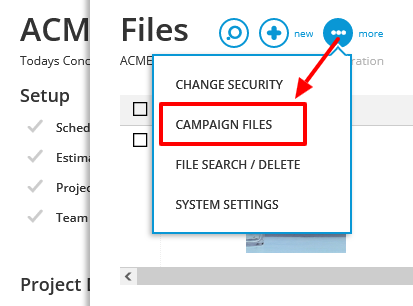 From the campaign files, you can choose your files(s) and then click Copy To Project.

---
Delete files
When you click the checkbox next to the file(s) you want to delete, then the Delete option appears at the top.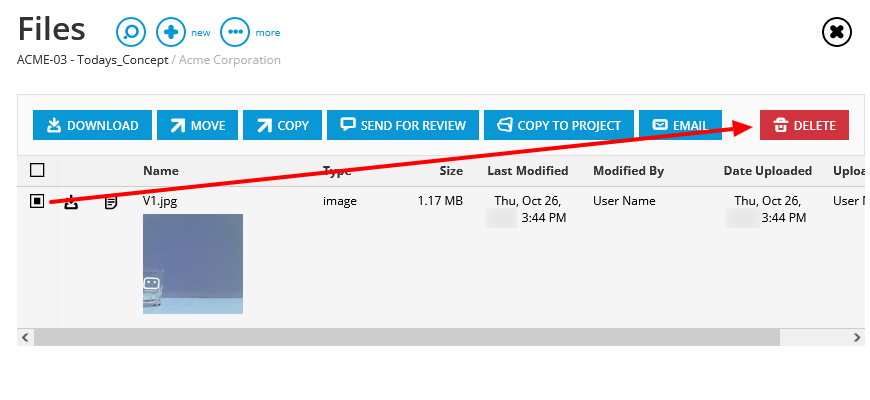 ---
Send for review
This is a quick way to start the first round only of a new deliverable. After which you will need to use the deliverable to add files for the subsequent rounds.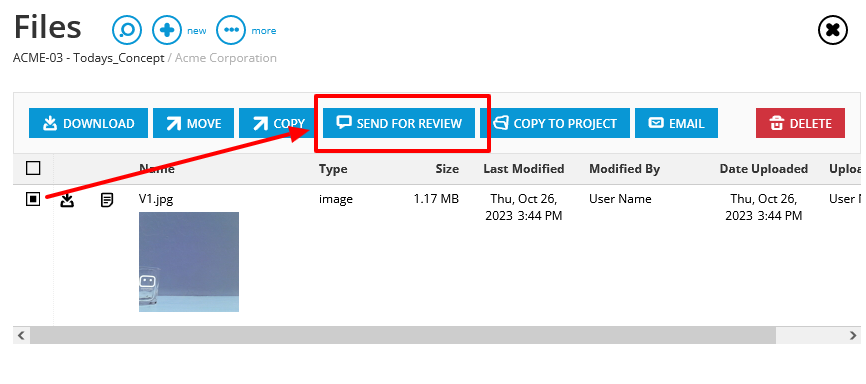 If there is an existing Deliverable, you can add a new round this way as well.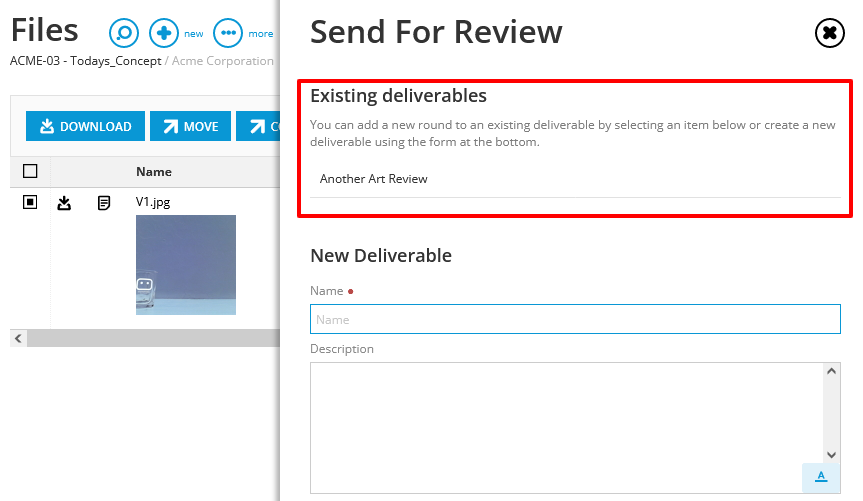 See the Deliverables [in-depth guide] for more info about this feature.
---
File management
Keep in mind that some system configurations can have an effect on the behavior of files.
NOTES:
If you are using Box.net, the Box.net link only allows 1000 active project file folders to be synced. As you close a project, you must archive the project files. This will allow new projects to stay within the limit.
When file storage is moved to your server, you will be responsible for the backup and maintenance of these files. Workamajig will no longer be able to include them in our backup/maintenance procedures.
In order to prevent issues with up/downloading of files using WebDAV, please refrain from using special characters in your filenames.
The Safari browser only lets you download one file or folder at a time, so even if you select multiple files to download, only one will actually download.
---